http://c.brightcove.com/services/viewer/federated_f9?isVid=1&isUI=1
It sounds almost cliché at times to call Hawaii a paradise. The orange sherbet sunrises, verdant rainforests, golden and black sand beaches and smoking volcanoes will have visitors rethinking their definition of the word. There is nothing cliché about these islands. Hawaii captures not only the vast natural beauty of the state, but also the indelible warmth and spirit of the people who call it home.
With 19 distinct volcanic islands, Hawaii is an archipelago located over a geological hotspot in the Central Pacific. Six of these islands are open to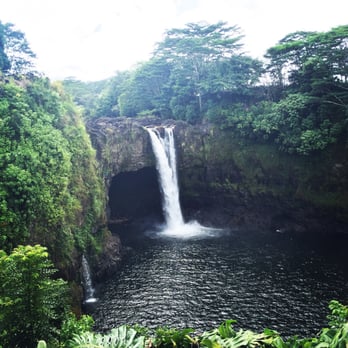 visitors and have a tourism-driven economy. The Big Island of Hawaii is the largest of the islands and is home to the most active volcano in the world, located in Hawaii Volcanoes National Park. Hilo is the largest city on the Big Island and home to natural wonders including Rainbow Falls and Kaumana Caves.
The most populous and developed island, Oahu is home to the state's capital, Honolulu. It is the governmental and commercial hub of the island chain, and arguably one of the best-known destinations in Hawaii. Waikiki Beach has become a mainstay for tourism with its hotels, high-rises, surfers and sun-worshipers who gather here year-round. Just to the west of Honolulu is Pearl Harbor. Visit the national memorial and museum for an insightful and solemn look back into the start of the United States' involvement in World War II.
Maui, the second-largest of the islands, has several resort areas on the western side including Lahaina, Kaanapali and Kapalua. In addition to luxury resorts, championship golf courses and endless shopping opportunities, stunning views can be seen from the summit of Haleakala National Park or by taking a helicopter ride over the volcanoes, jungles and beaches of the island. Known as the "Garden Isle," Kauai is covered with lush tropical plants and is home to several natural wonders such as the Na Pali Coast, Wailua River and Waimea Canyon. As a top diving destination, Kauai has beautiful, unspoiled coral reefs and a variety of fish not found anywhere else in the world. Molokai and Lanai are the least-developed islands of Hawaii and are perfect for a relaxing and secluded beach getaway.
A multiethnic blend of American, Asian and Polynesian influences, Hawaiian cuisine has been making a resurgence with fine and casual dining throughout the state. Replacing pizza and burgers as the late-night comfort food of choice, ethnic noodle stands and houses are popping up in greater numbers. Check out Hamura's Saimin Stand (think homemade ramen noodle soup) in Kauai or Jimbo's Restaurant in Oahu. Another staple in local Hawaiian cuisine are plate lunches. These usually consist of a single plate with scoops of rice and a protein, such as kalua pork, beef teriyaki or chicken katsu. For a romantic atmosphere with an incredible view, try the CanoeHouse on the Big Island. The local seafood offerings like Hawaiian snapper and gobo shrimp reflect the restaurants' Pacific Rim origins. One of the best upscale restaurants in Maui, David Paul's Lahaina Grill serves signature dishes like seared Ahi tuna with jasmine rice or kalua duck.
All international flights and the majority of those coming from the mainland U.S. arrive at Honolulu International Airport (HNL) on the island of Oahu. Direct service from the mainland is also available for smaller airports in Kahului on Maui, Kona on the Big Island and Lihue on Kauai. From each of these airports, travelers can connect to an inter-island flight using Hawaiian Airlines, MarJet Hawaii, Mokulele Airlines, Island Air, Pacific Wings and the discount carrier, Go! While on Oahu, the cheapest way to get around is the public transportation system called TheBus. There are taxis on all the islands, but for longer stays it's more efficient to rent a car. Be sure to book your rental car as soon as possible, as prices are based on supply and demand.
Boasting 11 different climate zones, the weather in Hawaii can vary greatly due to elevation and terrain. The overall climate of Hawaii is subtropical due to the close proximity to the ocean, which moderates temperatures with gentle leeward breezes. There are only two seasons in Hawaii – summer (May to October) with average highs around 85°F, and winter (November to April) with temperatures that rarely fall below 65°F. Areas on the northern and eastern flanks of the islands will receive the most rainfall due to trade winds bringing in precipitation. The winter months tend to bring the most rain, yet there is no best or worst time to visit. The high season runs from mid-December to mid-April, when flights and hotel prices are the most expensive. The crowds tend to thin out from mid-April to May, as well as mid-September to November; this is the best time to find great deals.
Don't Forget to Follow Our Blog!!
Feel free to Share 

Leave me a comment below and let me know what your feelings are on this!!
Ms Johnnie Wright
Founder – Coastal
Christian Team
Make Sure to Subscribe to My Blog so You'll be Notified when I Post something New.. (top Right)
DFI